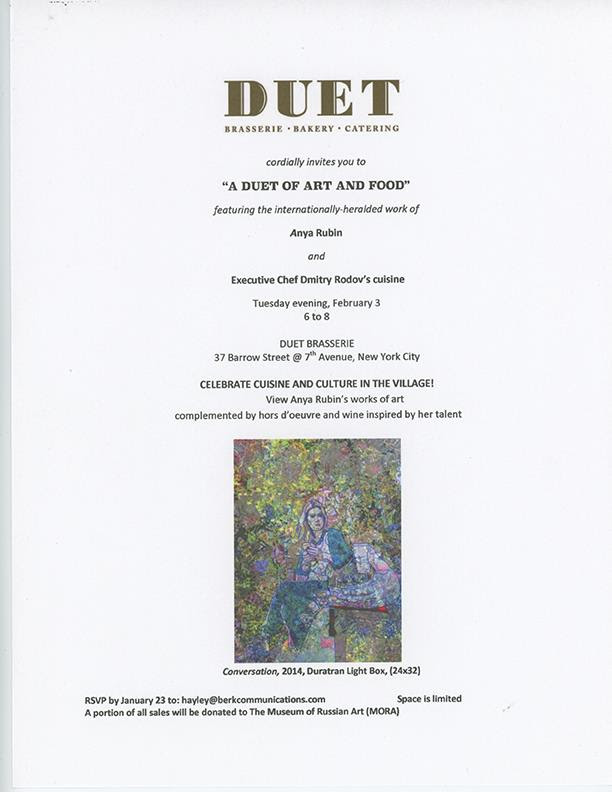 DESCRIPTION




Internationally acclaimed artist Anya Rubin,
whose work is currently being shown at the Second International Biennial of Art in Palermo, Italy,
and who recently participated in "Images of Nature and Nature of Images" at Onishi Project in Chelsea,
will show a selection of her groundbreaking work at the West Village's new Duet Brasserie (37 Barrow St).





Executive Chef / Partner, Dmitry Rodov,
will host a salon exhibition of Rubin's work titled "A Duet of Art and Food" from February 3 to 10,
open to the public daily during regular restaurant hours.





An invitation-only opening reception will be held February 3, from 6 to 8 pm.
In homage to Rubin's vivid color palette and compositions,
Chef Rodov,
for the entirety of the exhibition,
will present a special dish inspired by Rubin's work -
Octopus Carpaccio, trio of beets—red, golden, and candy— goat cheese, caramelized onions, basil oil and white balsamic cream, "framed" in a tall glass dome.
A percentage of the proceeds from the $21 dish, as well as the sale of any of Rubin's works will be donated to MORA, The Museum of Russian Art in Jersey City, New Jersey.