Dear Boriss,
Freedom of expression is the bedrock of an open society. Without it, citizens cannot demand other social and political rights. It requires a stalwart guardian.That's why PEN exists: to fight back.
We fight for justice for the three bloggers in Bangladesh, including Avijit Roy, founder of the secular website Free Mind, who were brutally murdered in as many months.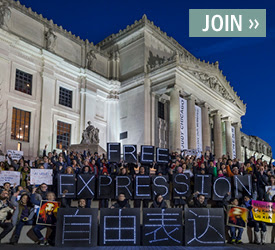 We fight for the release of Saudi writer Raif Badawi, who is facing a sentence of 1,000 lashes for his writing expressing peaceful opposition to government policies.
We fight for the freedom of Ilham Tohti, a Uyghur Chinese professor who was sentenced to life in prison for his efforts to foster dialogue between China's minority groups and the majority Han Chinese.
Thanks to our Members, PEN America is that guardian—a global force that protects writers and journalists, mobilizes authors as agents for social change, and shapes the global free expression agenda through advocacy, policy work, and litigation.
Our members make us stronger, which is why I hope you will join today as a PEN Advocate with a contribution of $50 or more.
Become a PEN Advocate by making your contribution today.
With gratitude,
Suzanne Nossel
Executive Director, PEN American Center